A virtual store is a means for customers to access products manufactured or distributed by companies, regardless of their size. But how does an online store work?
In fact, an online store is structured so that, each entrepreneur can put up for sale their own items very quickly and easily, at no cost. The idea is that anyone with basic computing can do it.
The customer must register in order to make purchases in the online store, this ensures that he can access data from the shopping cart, shipping options, order tracking, and others. In addition to being able to access the customer service area where, in case of any inconvenience or incident, they can contact support to resolve it as quickly as possible.
Being registered, they can add standard delivery addresses or preferred payment methods, which serves to expedite subsequent purchases and require less effort on the part of the customer.
To help you understand more about how e-shopping works, I've prepared today's article on the subject. Are you interested in learning more? Then follow along with me right now!
How does an online store work?
To help you understand more about how does an online store work, here are the main aspects you should pay attention to when setting up your business:
Product catalog
Something that should definitely be put in view of the user in your online store is your product catalog, which serves as your letter of introduction.
Depending on the style of your online store, it should have most of your products available. Its design can range from fun and creative, to serious and professional.
You should select this very carefully, following the same theme as your store. Also, it is essential that the product is accompanied by a data sheet, a photo or even a video (remember, videos sell a lot more).
Menu with categories
Your product catalog will be more complete if you sort it by categories (especially if you have a wide variety of products to offer).
This way, you make it easier for your customers to find you and you can highlight what you are most interested in selling.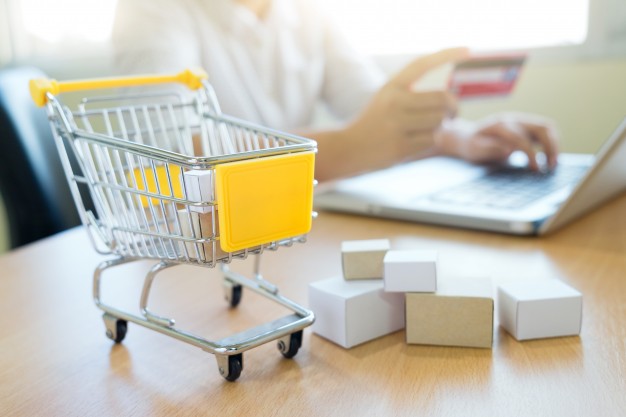 Shopping cart
One of the key elements is a "dynamic" shopping cart, because it makes it easier for customers to control their purchases.
It allows them to add, delete or modify any chosen product without having to go to a different page to do so.
In fact, it is important to have a shopping cart in sight and accessible to handle at any time. This is an essential point when knowing how to work online store.
Payment methods
Every online store should have on its website information about the payment options that can be used when making the purchase.
This factor is linked to the confidence with which customers choose the payment method and with which they feel best.
It is important to mention that the more payment methods you incorporate into your business, the more chances of increasing conversions.
Click here if you want to learn more about OpenCart!
Search Engine
Some customers will enter your site looking for something specific, and for that, your online store's search engine must work properly.
Finding a product easily and quickly by just typing in a few keywords to find the product will make your customer's life easier.
It is advisable that the search engine is visible and implemented as easily as possible to allow advanced searches. Also, if the search does not give results, it is advisable to show recommendations.
Contact page
To set up your business successfully, remember that customer service is important. Therefore, your online store cannot be without a contact page.
Giving your future customers the opportunity to contact you to resolve their questions about a product, the buying process, or shipping is essential.
Don't forget that accessibility and usability must always be present: if your store is present on social networks, include them in this section, so that customers can contact you by the most comfortable and reliable means for them.
Corporate information
It is worth noting that this section of your site generates peace of mind and transparency for customers, since no one makes a purchase without knowing who is behind the process. This is an essential point when knowing how the online store works.
Among the important corporate information that should be visible, besides who we are, mission and vision, is the privacy policy